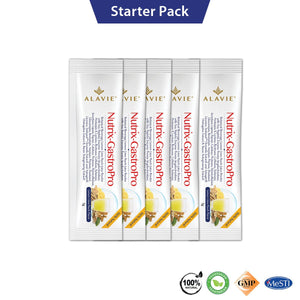 health care
ALAVIE® Nutrix-GastoPro Starter Pack 5s
Regular price
RM28.00 MYR
Sale price
RM39.00 MYR
Unit price
per
Tax included.
ALAVIE® Nutrix-GastroPro is the Best Nutrition to Promote Stomach Comfort & Maintain Healthy Digestive System. It is made with 100% Natural Aid, Ultra Strength, Rapid Relief, High Efficacy. All active ingredients used are premium sources and scientifically proven effective to tackle these problems.

Delicious Lemon Lime Peach Juice

No Artificial Sweeteners, Colouring & Preservatives

No dependency, No side effects

Visible Results in 4 weeks!

Premium, Scientifically Proven & Patented Ingredients: 
Soy Peptide, Enzyme Premix (α-galactosidase, Proteases II, Lactase, Pectinase, Cellulase, Xylanase, Invertase, Lipase, Papain, Catalase, Protease, Hemicellulase, Glucanases, Bromelain, Amylase, Phytase, Diastase), Licorice, Trebeaut™ (Tremella Extract) and Astragin® (Astragalus Extract & Panax Notoginseng Extract)
Direction of use: Adults: 
Take 1 to 2 sachet/s daily after meal. Mix it with 100 – 150 ml room temperature water, stir well & drink.
---
Share this Product
---