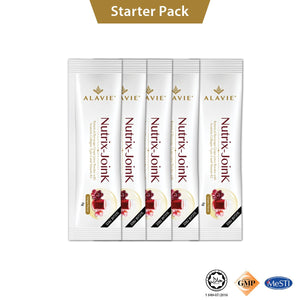 Health Care
ALAVIE® Nutrix-JoinK Starter Pack 5s
Regular price
RM28.00 MYR
RM0.00 MYR
Unit price
per
Tax included.
Overview:
ALAVIE® Nutrix-JoinK, is the delicious grape juice with complete natural bioactive nutrients for healthy joint, bone & cartilage. The ultra-strength formula is focused on giving fast relief and targeted care for whole body joint & cartilage: Neck, knee, wrist, ankle, elbow, lumbar, shoulder. It is sugar free in which suitable for all adults especially elderly. The best alternative daily joint care drink for chemical medicine.
Ingredients:
Grape Juice Powder, Beetroot Powder, Pomegranate Juice Powder, Acujoint® (Curcumin Extract, Boswelia Serata Extract, Black Pepper Extract, Alpinia Galanga Extract), Collagen Type-II, MediQ7 (Vitamin K2), Vitamin D3
Benefits:
Top 6 Key Effectiveness:
Stimulate growth & repair of cartilage tissue
Reduce joint inflammation & pain
Promote cartilage lubrication
Enhance joint mobility & flexibility
Comfort & support weak joint
Maintain health bone strength & reduce fracture
Direction of use:
Take 1 - 2 sachets daily and mix in 100-150ml room temperature water, stir well and drink. Best consume in the morning before meal and before bedtime.
---
Share this Product
---