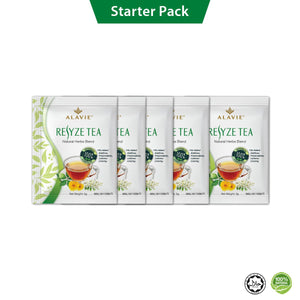 Weight Management
ALAVIE® Resyze Tea Starter Pack 5s
Regular price
RM15.00 MYR
RM0.00 MYR
Unit price
per
Tax included.
Overview:
ALAVIE® Resyze Tea, is the 100% botanical blend tasty chrysanthemum herbal tea with Southern Ginseng and 8 other precious traditional herbs extract to give extra strength natural herbs fat burner effects in which it will enhance body metabolism rate to accelerate the decomposition of body fats, reduce body weight while trim & slim body, detoxify to overcome constipation, improve gastrointestinal function to gain better digestion and relieve water retention effectively, with no added caffeine & chemical laxatives, it's now safe & easy for you to fight stubborn fats & reshape S-curve body!
MAL16110067T
Ingredients:
Gynostemma Pentaphyllum, Chrysanthemum, Sophora Flower, Hawthorn, Cassia Seed, Lotus Leaf, Polygonum Multiflorum, Silver Flower, Senna Leaf
Benefits:
5 synergetic effects to fight stubborn fats & reshape S curve body
Natural herbs fat burner, accelerate decomposition of excessive & stubborn body fats
Extra strength of body slim & trim effects
Powerful detox & overcome constipation
Improve gastrointestinal function
Get rid of water retention
Direction of use:
Adults: Take 1 teabag (3g) daily after meal.
---
Share this Product
---