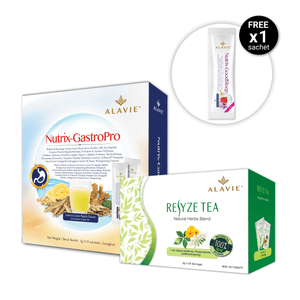 Exclusive Bundle Sets
[Limited Bundle] ALAVIE Nutrix-GastroPro15s + ALAVIE Resyze Tea 25s
Regular price
RM96.00 MYR
Sale price
RM148.00 MYR
Unit price
per
Tax included.
What's in the box 1 box ALAVIE Nutrix-GastroPro 15s + 1 box ALAVIE Resyze Tea 25s (FREE 1s Nutrix-GoodSleep)

ALAVIE® Nutrix-GastroPro is the Best Nutrition to Promote Stomach Comfort & Maintain Healthy Digestive System. It is made with 100% Natural Aid, Ultra Strength, Rapid Relief, High Efficacy. All active ingredients used are premium sources and scientifically proven effective to tackle these problems. Delicious Lemon Lime Peach Juice No Artificial Sweeteners, Colouring & Preservatives No dependency, No side effects Visible Results in 4 weeks! Premium, Scientifically Proven & Patented Ingredients: Soy Peptide, Enzyme Premix (α-galactosidase, Proteases II, Lactase, Pectinase, Cellulase, Xylanase, Invertase, Lipase, Papain, Catalase, Protease, Hemicellulase, Glucanases, Bromelain, Amylase, Phytase, Diastase), Licorice, Trebeaut™ (Tremella Extract) and Astragin® (Astragalus Extract & Panax Notoginseng Extract).

Direction of use: Adults:
Take 1 to 2 sachet/s daily after meal. Mix it with 100 – 150 ml room temperature water, stir well & drink.

ALAVIE® Resyze Tea, is the 100% botanical blend tasty herbal tea with Southern Ginseng and 8 other precious traditional herbs extract to give extra strength natural herbs fat burner effects in which it will enhance body metabolism rate to accelerate the decomposition of body fats, reduce body weight while trim & slim body, detoxify to overcome constipation, improve gastrointestinal function to gain better digestion and relieve water retention effectively, with no added caffeine & chemical laxatives, it's now safe & easy for you to fight stubborn fats & reshape S-curve body!

Direction of use:
Adults: Take 1 teabag (3g) daily after meal.
---
Share this Product
---