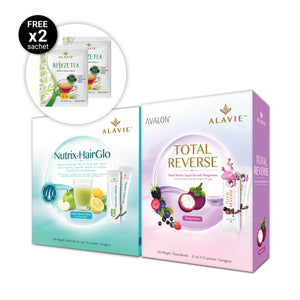 Exclusive Bundle Sets
[Limited Bundle] ALAVIE Nutrix-HairGlo 15s + ALAVIE Total Reverse 15s
Regular price
RM109.00 MYR
Sale price
RM150.00 MYR
Unit price
per
Tax included.
What's in the box: 1 box Alavie Nutrix-HairGlo 15s + 1 box Alavie Total Reverse 15s (FREE 2s Resyze Tea)

Alavie® Total Reverse helps to fight skin aging naturally through its Triple Reverse Actions (Anti-Glycation, Anti-Oxidation & Anti-Aging), which reverse skin damages caused by excessive sugar intake. Infused with natural premium ingredients from 5 different countries - Singapore, Japan, China, Italy & Switzerland - this liquid gel essence helps you to achieve a glowing and youthful appearance after just 20 days!

Full ingredient list: RO Water, Mangosteen, Mixed Fruit (blackberry powder, blueberry powder, raspberry powder, elderberry extract), Fructose, Sakura Extract, Rice Ceramide, Lingon Berry Extract, Green Tea Extract, Grape Seed Extract, Apple Stem Cell, Grape Stem Cell, Citric Acid, Xanthan Gum.

Benefits:
Reduces wrinkles, age spots & blemishes
Prevents premature aging
Firms sagging skin
Improves dry scaly skin
Brightens dull skin
Protects skin from sun damages

Direction of Use: Take 1 sachet on an empty stomach, 1-2 times a day. Serve chilled for best taste.

ALAVIE® Nutrix-HairGlo is a delicious and refreshing sugar free apple lemon juice that formulated in golden ratio with premium and patented ingredients such as Ioniplex®, Lalmin® Vitamin B Complex, Lalmin® Zinc and Polyamine which are targeted to provide solution and intensive care for all hair problems for both men & women. The powerful formula used in the product has been scientifically proven to nourish hair roots, rejuvenate hair cells, strengthen weak hair to stop hair loss, support healthy hair, skin and nail growth naturally while increasing the collagen within our body to make your hair shiny and healthy over time. Moreover, it is so easy to consume for those who are too busy in taking care of their hair.

100% Natural Aid, Ultra Strength, High Efficacy. Suitable for all hair types.

Top 8 Effectiveness
-Support Healthy Hair, Skin & Nails
-Nourish Hair Roots, Strengthen Weak Hair
-Improve Hair Loss, Ensure Faster & Thicker Hair Regrowth
-Regenerate Hair Cells, Repair Damaged Hair
-Improve Hair Dryness, Reduce Frizzy & Split Ends
-Unclog Hair Follicles, Eliminate Excess Sebum
-Rejuvenate The Scalp, Eliminate Dandruff
-Prevent Premature Greying & Premature Hair Loss

Suitable for people with:
-Postpartum hair loss
-Hair damages due to over styling and wrongly use of hair care product
-Premature grey hair
-Dry, dull, and brittle hair
-Hair dandruff
-Baldness or hair loss
-Imbalance diet
-Hormonal Imbalance
-Elderly & hereditary thinning hair

INGREDIENTS: Lemon Juice Powder, Apple Juice Powder, Wheatgrass Powder, Ioniplex® (Mineral Complex), Lalmin® Vitamin B-Complex, Lalmin® Zinc and Polyamine (Rice Extract).

DIRECTION OF USE: Take 1 to 2 sachet/s daily. Mix it with 100-150ml room temperature water, stir well and drink. Best consume in the morning before meal and/or before bedtime.

---
Share this Product
---