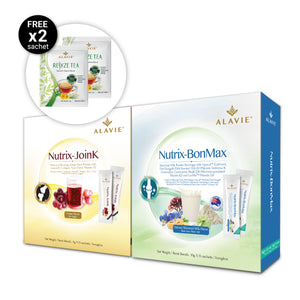 Exclusive Bundle Sets
[Limited Bundle] ALAVIE Nutrix-JoinK 15s + ALAVIE Nutrix-BonMax 15s
Regular price
RM109.00 MYR
Sale price
RM164.00 MYR
Unit price
per
Tax included.
ALAVIE Nutrix-JoinK is the Complete Natural Bioactive Nutrients For Healthy Joint, Bone & Cartilage. Targeted care for whole body joint & cartilage: Neck, knee, wrist, ankle, elbow, lumbar, shoulder. Suitable for all adults. The best alternative daily joint care drink for chemical medicine.

INGREDIENTS: Grape Juice Powder, Beetroot Powder, Pomegranate Juice Powder, Acujoint® (Curcumin Extract, Boswelia Serata Extract, Black Pepper Extract, Alpinia Galanga Extract), Collagen Type-II, MediQ7 (Vitamin K2), Vitamin D3

Ultra Strength, Fast Relief, Delicious Grape Flavour, Sugar Free

Top 6 Key Effectiveness:
Stimulate growth & repair of cartilage tissue
Reduce joint inflammation & pain
Promote cartilage lubrication
Enhance joint mobility & flexibility
Comfort & support weak joint
Maintain health bone strength & reduce fracture

Direction of use: Take 1 - 2 sachets daily and mix in 100-150ml room temperature water, stir well and drink. Best consume in the morning before meal and before bedtime.

ALAVIE Nutrix-BonMax is the best nutrition to support healthy bone growth, keep bone strength & density at every age.
Calcium plays a role in:
· Strengthening bones & teeth
· Regulating muscle functioning, such as contraction & relaxation
· Regulating heart functioning
· Blood clotting
· Transmission of nervous system messages
· Enzyme function.

INGREDIENTS: Lipocal™ (Calcium), DurOmega® (DHA Powder), YGF-251 (Phlomis Umbrosa & Commelina Communis), MediQ7® (Microencapsulated Vitamin K2) and LocVita™ (Vitamin D3)

Classic Natural Skimmed Milk Flavour
High Calcium, High Protein
No added Sugar
No artificial preservative, colorings & flavorings
Suitable for all adults & children over 4 years old

Top 9 Golden Effectiveness
Scientifically Proven, Visible results in 4 weeks
1. Essential to maintain healthy bones.
2. Help to increase calcium absorption.
3. Prevent the risk of developing osteoporosis during aging processes.
4. Ensure maximum bone growth in children & adolescent.
5. Prevent calcium deposit in vascular system.
6. Improvement in bone quality
7. Reduce fractures & back pain.
8. Enhance muscle strength, regenerate skeletal muscle.
9. Slow the rate of tooth loss that occurs with age.

Direction of use:
Adults: Take 1-2 sachet/s daily after meal. Mix it with 100 – 150 ml room temperature water, stir well & drink.
Children above 4 years old: Take ½ to 1 sachet daily after meal. Mix it with 100 – 150 ml room temperature water, stir well & drink.

---
Share this Product
---