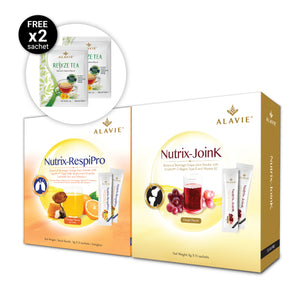 Exclusive Bundle Sets
[Limited Bundle] ALAVIE Nutrix-RespiPro 15s + ALAVIE Nutrix-JoinK 15s
Regular price
RM109.00 MYR
Sale price
RM150.00 MYR
Unit price
per
Tax included.
What's in the box: 1 box Alavie Nutrix-RespiPro 15s + 1 box Alavie Resyze Tea 25s (FREE 2s Resyze Tea)

ALAVIE® Nutrix-RespiPro is made with 100% natural advanced respiratory support formula to nourish lung, improve lung functions, strengthen immunity and provide targeted care for all respiratory health problems such as flu, runny nose, rhinitis allergy, sinusitis, chest pain, shortness of breath etc.

DUAL PROTECTION: Build Healthy Lungs + Boost Strong Immunity
Best Nutrition for Lung Damage Care & Recovery

Delicious Orange Juice Flavor
0% Fat & Cholesterol
Suitable for all adults & children over 4 years old

INGREDIENTS: Orange Juice Powder, Vitamin C, TigerPro™ (Tiger Milk Mushroom), Propolis Extract, Lalmin® Zinc and Beta Carotene.

DIRECTION OF USE:
Adults: Take 1 to 2 sachet/s daily after meal.
Children above 4 years old: Take ½ to 1 sachet daily after meal.
Mix it with 100-150ml room temperature water, stir well & drink.

Complete Natural Bioactive Nutrients For Healthy Joint, Bone & Cartilage. Targeted care for whole body joint & cartilage: Neck, knee, wrist, ankle, elbow, lumbar, shoulder. Suitable for all adults. The best alternative daily joint care drink for chemical medicine.

INGREDIENTS: Grape Juice Powder, Beetroot Powder, Pomegranate Juice Powder, Acujoint® (Curcumin Extract, Boswelia Serata Extract, Black Pepper Extract, Alpinia Galanga Extract), Collagen Type-II, MediQ7 (Vitamin K2), Vitamin D3

Ultra Strength, Fast Relief, Delicious Grape Flavour, Sugar Free

Top 6 Key Effectiveness:
Stimulate growth & repair of cartilage tissue
Reduce joint inflammation & pain
Promote cartilage lubrication
Enhance joint mobility & flexibility
Comfort & support weak joint
Maintain health bone strength & reduce fracture

Direction of use: Take 1 - 2 sachets daily and mix in 100-150ml room temperature water, stir well and drink. Best consume in the morning before meal and before bedtime.
---
Share this Product
---