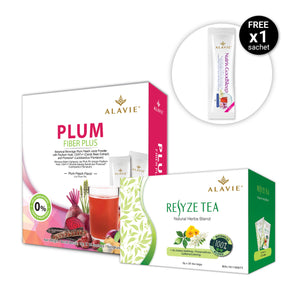 Exclusive Bundle Sets
[Limited Bundle] ALAVIE Plum Fiber Plus 15s + ALAVIE Resyze Tea 25s
Regular price
RM109.00 MYR
Sale price
RM148.00 MYR
Unit price
per
Tax included.
ALAVIE® Resyze Tea, is the 100% botanical blend tasty herbal tea with Southern Ginseng and 8 other precious traditional herbs extract to give extra strength natural herbs fat burner effects in which it will enhance body metabolism rate to accelerate the decomposition of body fats, reduce body weight while trim & slim body, detoxify to overcome constipation, improve gastrointestinal function to gain better digestion and relieve water retention effectively, with no added caffeine & chemical laxatives, it's now safe & easy for you to fight stubborn fats & reshape S-curve body!

5 synergetic effects to fight stubborn fats & reshape S curve body
1.Natural herbs fat burner, accelerate decomposition of excessive & stubborn body fats
2.Extra strength of body slim & trim effects
3.Powerful detox & overcome constipation
4.Improve gastrointestinal function
5.Get rid of water retention

Direction of use: Adults: Take 1 teabag (3g) daily after meal.

Halal certified, MAL16110067T, No caffeine & chemical laxatives

ALAVIE® Plum Fiber Plus is the Best Nutrition to Relieve Constipation, Improve Metabolic Syndrome & Maintain Healthy Weight! It is made with the Supreme Triple Care Fiber Formula (Prebiotics + Probiotics + Fortified Fiber Blend) with premium, scientifically proven & patented Ingredients including Psyllium Husk, CSAT+® (Carob Bean Extract), Promune® (Lactobaccilus Plantarum) and Fortified Fiber Blend (plum, peach, longan, red date & beetroot). 100% natural aid with high efficacy to give results in 1 day!

The Recommended Nutrient Intakes for Malaysians recommends 20 to 30 g daily consumption of dietary fiber (with an emphasis on between 7g to 13g of soluble fiber).

Delicious Plum Peach Juice
0% Fat & Cholesterol
No dependency, No side effects
No artificial preservative, colorings & flavorings

Top 10 Golden Effectiveness:
Support healthy gut health & regularity
Relieve constipation & colon cleanse
Reduce gastrointestinal inflammation
Restore healthy gut microbiome
Enhance immune system
Improve metabolic syndrome (Regulate blood cholesterol, blood pressure & blood glucose level)
Boost satiety & aid in weight loss
Improve acne & dull skin complexion
Boost energy & vitality
Prevent bad breath

Direction of use: Take 1 sachet daily before sleep. Mix it with 100 – 150 ml room temperature water, stir well & drink.


---
Share this Product
---