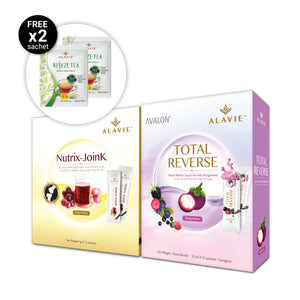 Exclusive Bundle Sets
[Limited Bundle] ALAVIE Total Reverse 15s + ALAVIE Nutrix-JoinK 15s
Regular price
RM109.00 MYR
Sale price
RM150.00 MYR
Unit price
per
Tax included.
What's in the box: 1 box Alavie Total Reverse 15s + 1 box Alavie Nutrix-JoinK 15s (FREE 2s Resyze Tea)

Alavie® Total Reverse helps to fight skin aging naturally through its Triple Reverse Actions (Anti-Glycation, Anti-Oxidation & Anti-Aging), which reverse skin damages caused by excessive sugar intake. Infused with natural premium ingredients from 5 different countries - Singapore, Japan, China, Italy & Switzerland - this liquid gel essence helps you to achieve a glowing and youthful appearance after just 20 days!

Full ingredient list: RO Water, Mangosteen, Mixed Fruit (blackberry powder, blueberry powder, raspberry powder, elderberry extract), Fructose, Sakura Extract, Rice Ceramide, Lingon Berry Extract, Green Tea Extract, Grape Seed Extract, Apple Stem Cell, Grape Stem Cell, Citric Acid, Xanthan Gum.

Mangosteen - "Miracle Queen of the Fruits" (Originates from SG)
Contains a synergistic blend of vitamins & phytonutrients including Xanthones & Vitamin C
Protects & heals damaged cells
Slows down skin aging
Inhibits AGEs' production
Boosts skin hydration
Brightens skin
Promotes collagen production
Reduce wrinkles, age spots & blemishes
Boosts skin immunity
Anti-acne

Benefits:
Reduces wrinkles, age spots & blemishes
Prevents premature aging
Firms sagging skin
Improves dry scaly skin
Brightens dull skin
Protects skin from sun damages

Direction of Use: Take 1 sachet on an empty stomach, 1-2 times a day. Serve chilled for best taste.

Alavie® Nutrix-JoinK is packed with complete natural bioactive nutrients for healthy joint, bone & cartilage. Targeted care for whole body joint & cartilage: Neck, knee, wrist, ankle, elbow, lumbar, shoulder. Suitable for all adults. The best alternative daily joint care drink for chemical medicine.

INGREDIENTS: Grape Juice Powder, Beetroot Powder, Pomegranate Juice Powder, Acujoint® (Curcumin Extract, Boswelia Serata Extract, Black Pepper Extract, Alpinia Galanga Extract), Collagen Type-II, MediQ7 (Vitamin K2), Vitamin D3

Ultra Strength, Fast Relief, Delicious Grape Flavour, Sugar Free

Top 6 Key Effectiveness:
Stimulate growth & repair of cartilage tissue
Reduce joint inflammation & pain
Promote cartilage lubrication
Enhance joint mobility & flexibility
Comfort & support weak joint
Maintain health bone strength & reduce fracture

Direction of use: Take 1 - 2 sachets daily and mix in 100-150ml room temperature water, stir well and drink. Best consume in the morning before meal and before bedtime.
---
Share this Product
---